Magician John Stessel is amazing at his craft.
He loves performing for crowds and seeing the looks on their faces as he boggles their minds with magic.
But humans aren't the only ones he performs for. Stessel also performs for shelter dogs. Apparently, dogs love magic too!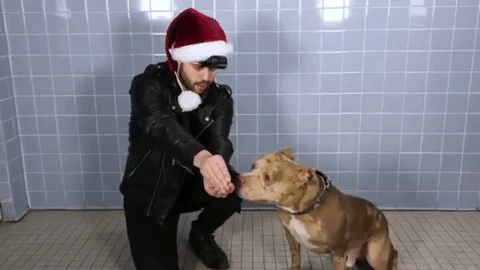 Their reactions to Stessel's tricks are downright hilarious.
Stessel partnered up with the Town of Hempstead Animal Shelter in Long Island, New York and TBS to help entertain some shelter dogs and help them get adopted.
"I've always loved the idea of doing magic with dogs," Stessel told The Dodo. "Performing for them was nothing short of incredible."
Stessel and Town of Hempstead Animal Shelter Director Rob Bliss thought it would be a good idea to showcase each dog's personality.
"To help animal shelter dogs get adopted TBS brought them the magic of the holidays, to show you how full of life they are," the shelter said.
Showing their quirky reactions would help make them more attractive to people looking to adopt a dog.
"The reaction from the dogs was just amazing," Stessel said. "They were just so cute. It was really special."
They really truly were. Stessel made doggie treats disappear right before the eyes of the doggies.
You could imagine how they felt about that! Some looked really confused. Others seemed to have their eyes pop out of your head. Some are intent on getting that treat and spin in circles trying to find it.
Not only did they get a fun private magic show but they were also pampered with lots of love and plenty of treats after the show.
They were also a little bit closer to a forever home.
"They just wanted to be loved," Stessel said. "Each one of them would be perfect to find their own forever home."
And people definitely picked up on each dog's personality.
"Lmaooo Cali was like I'm not playing with them demon ass games," said one person on YouTube.

"WhenCali started barking it had me wheezing of laughter," said another.
These pups really made an impression on people.
You can learn more about how to adopt them here.
Check out the video below to the dogs' hilarious reactions to magic.
Please SHARE this with your friends and family.
Follow your friends or be the first to join our group
Source: TBS